Este post vai ser escrito em Inglês
"the sun is up! And I'm soo Happy I could scream!!"
The weather is so nice and hot, that it requires that we should wear light, colourful clothes, for example
lemon yellow dresses
. I really like these dresses:
I just love the colour yellow in the summer time! It doesn't only bright up your day, as it also calls for good weather! And theses
lemon yellow dresses
, are so beautiful!!
Summer requires fresh clothing! I love wearing dresses in the summer! And Zaful has such beautiful ones, like ruffle chiffon dresses:
I really like
Zaful,
the items have good quality and it actually fits!! I have been browsing throughout the site and have choosen some pretty dresses that I don't mind having in my closet!
Let's start with the white and light dresses:
All theses dresses are wonderful to wear during the day… I love the trend – off the shoulders! And the colour white with f
loral embroidered, it's just perfect!
I choose these long and darker dresses, for a night out. I could wear them during the day (but because of the dark colour, it could be a bit hot). The first one is really nice, not quite fit for the summer, because it has long sleeves, but for colder nights, it would be a great choice! For the rest of the dresses, they are simply beautful! All the colours are nice, off the shoulder design are pretty sexy, they don't show a lot of cleavage, which is a good thing! And by judging by the photos, the material doesn't seem to be very hot.
I would wear these 3 dresses anytime. During the day or even at night. Each one is pretty in their own way, love the colours, and the design of each one.
In summer, there are no rules! And with dresses, it's the same thing! You should wear, what you are confortable in! If it's mini, maxi, off shoulder, bohemian, lace, print, bodycon, casual, lemon yellow, ruffle chiffon dresses, you name it! Zaful has it all!!
If you haven't found that right dress, try browing
Zaful
site! There are so many to choose from!!
Enough talking about dresses,
Zaful
has a surprise for you guys:
———-
Zaful 3rd Anniversary blog giveaway
My dear followers, there are some news I would love to share with you guys.
One of the biggest online fashion store "Zaful" is now celebrating their 3rdanniversary.
I'll checked out the details about this anniversary blog giveaway. TBH, It's quite awesome.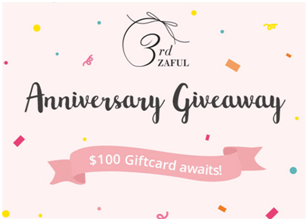 Who doesn't love giveaways? Go to their blog and take a look. I would be very happy if you tag my name【MissGiggles】after participating the giveaway event. Zaful will choose a couple of winners after the event and give out huge rewards!
Hope you liked the surprise! Will I sure did!!
Zaful is such a nice company, always thinking about their followers and treating them so well. Spoling them with nice clothing, great prices and now with this wonderful giveaway.
How about my choices, which dress did you like the most and the least?
Would you buy any of the 11 choices, that I showed?
If I had to pick only three dresses (which is kinda difficult – because they are all so beautiful), I would pick: Dress 3,

Dress 4,

Dress 6
"And there's nowhere else in the world I'd rather be
Than here with you, it's perfect
It's all I ever wanted
Oh I almost can't believe that it's for real, so pinch me quick…"